13 Big Development Projects Headed To South LA
We've highlighted some of the biggest projects planned for the region. Time will tell whether they can help level out the socioeconomic inequalities that have persisted for decades.
1.
The Reef
1900 S Broadway
Los Angeles, CA 90007
This massive—and potentially game changing housing, hotel, and retail complex with two high-rise towers is planned near Los Angeles Trade Technical College. If ultimately built, it will bring 1,444 condos and apartments, a hotel, a grocery store, restaurants, outdoor plazas, and a farmer's market to Southeast Los Angeles, a neighborhood that has seen little to no economic investment.
Still, many residents oppose the project, because they fear it will drive up housing costs in the area. Just 70 of the units will be affordable, meaning the rest will be market-rate. That could mean monthly rents upward of $1,730—the median price for a two-bedroom in Los Angeles right now.
A construction date for the project is unclear. The plans have been approved by the Los Angeles City Council, but in October, the Los Angeles Times reported that the developer was looking to sell the project or bring on a partner to help develop it.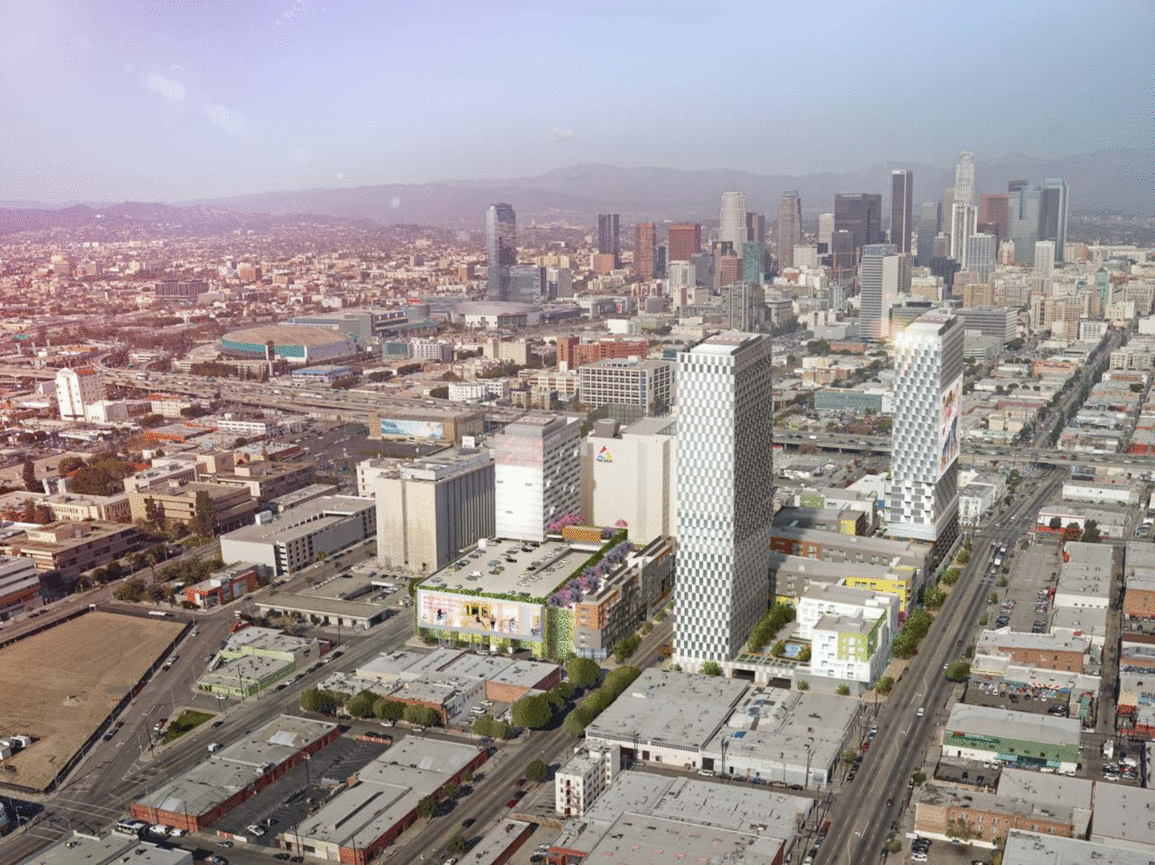 Photo: The Reef project includes two high-rise towers. Via city planning department
2.
Cumulus
3321 S La Cienega Blvd
Los Angeles, CA 90016
This transit-adjacent mixed user would bring a 30-story tower to historic West Adams. It would rise near the Expo Line's La Cienega/Jefferson station. Opponents have sued to halt construction, calling the project "wildly out of character" for the neighborhood. If ultimately built, it will be 1,200 residential units, offices, commercial space, and a grocery store, according to newer renderings.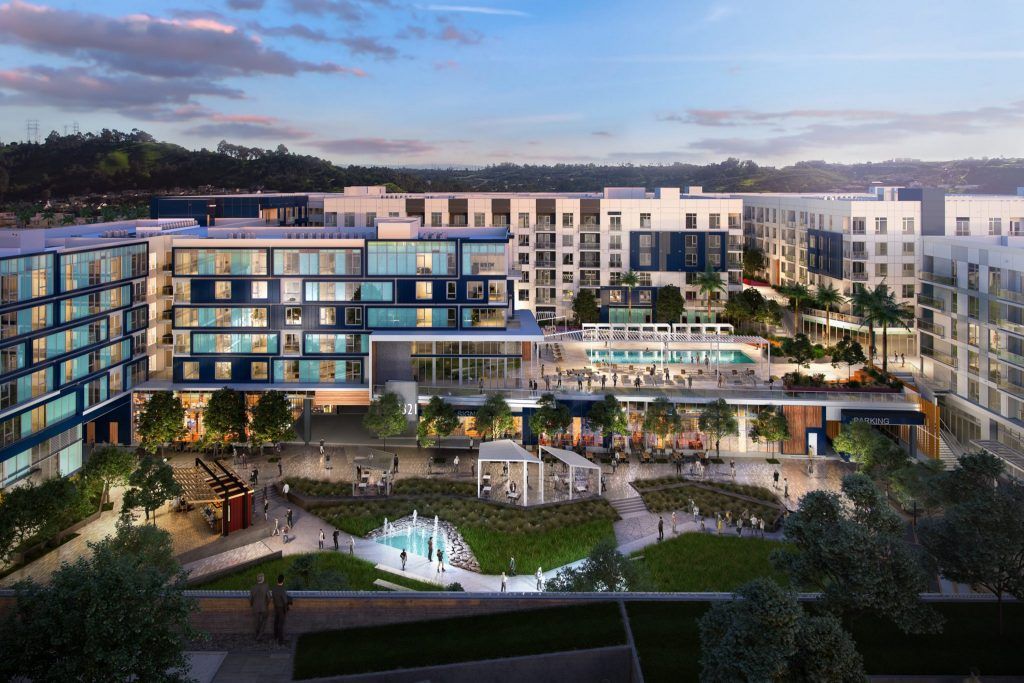 Photo: Cumulus. Solomon Cordwell Buenz, courtesy of Carmel Partners
3.
3606 W Exposition Blvd
3606 W Exposition Blvd
Los Angeles, CA 90016
The county and Metroare teaming up to find a developer to build 492 residential units, a grocery store, theater, and locally-owned restaurants on the other side of Exposition Boulevard from West Angeles Church. This project would flank Crenshaw Boulevard, steps from the Expo Line and the future Crenshaw Line. The new buildings would replace a county probation department on the west and a Metro construction staging site on the east.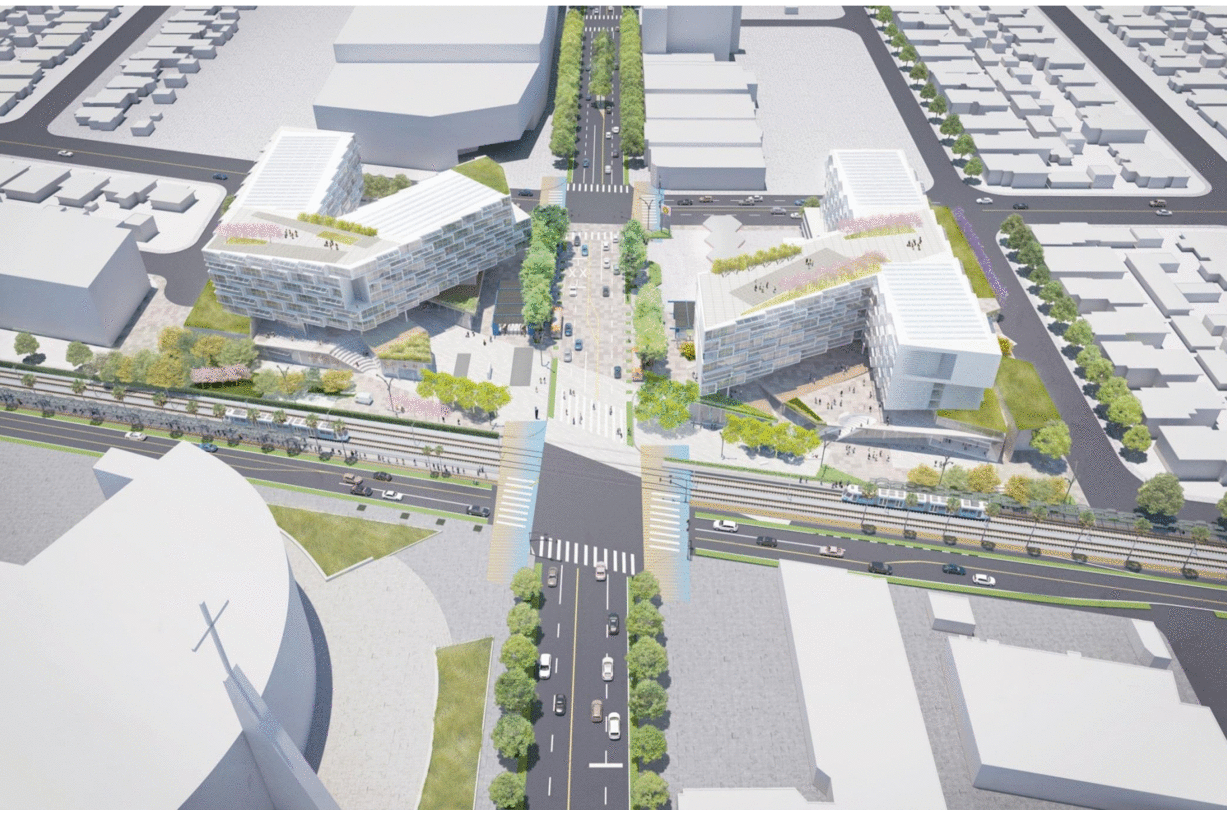 Photo: 3606 Exposition Blvd courtesy of The Source
4.
Lucas Museum of Narrative Art
3800 S Vermont Ave
Los Angeles, CA 90037
Exposition Park is already a destination for museum-goers. Now, George Lucas is adding to the mix with his museum devoted to the narrative arts. The futuristic-looking building will designed by MAD architects will house art focused "on the power of a single image to tell a story, inspire emotion, or encapsulate universal truths." It's scheduled to open in 2021.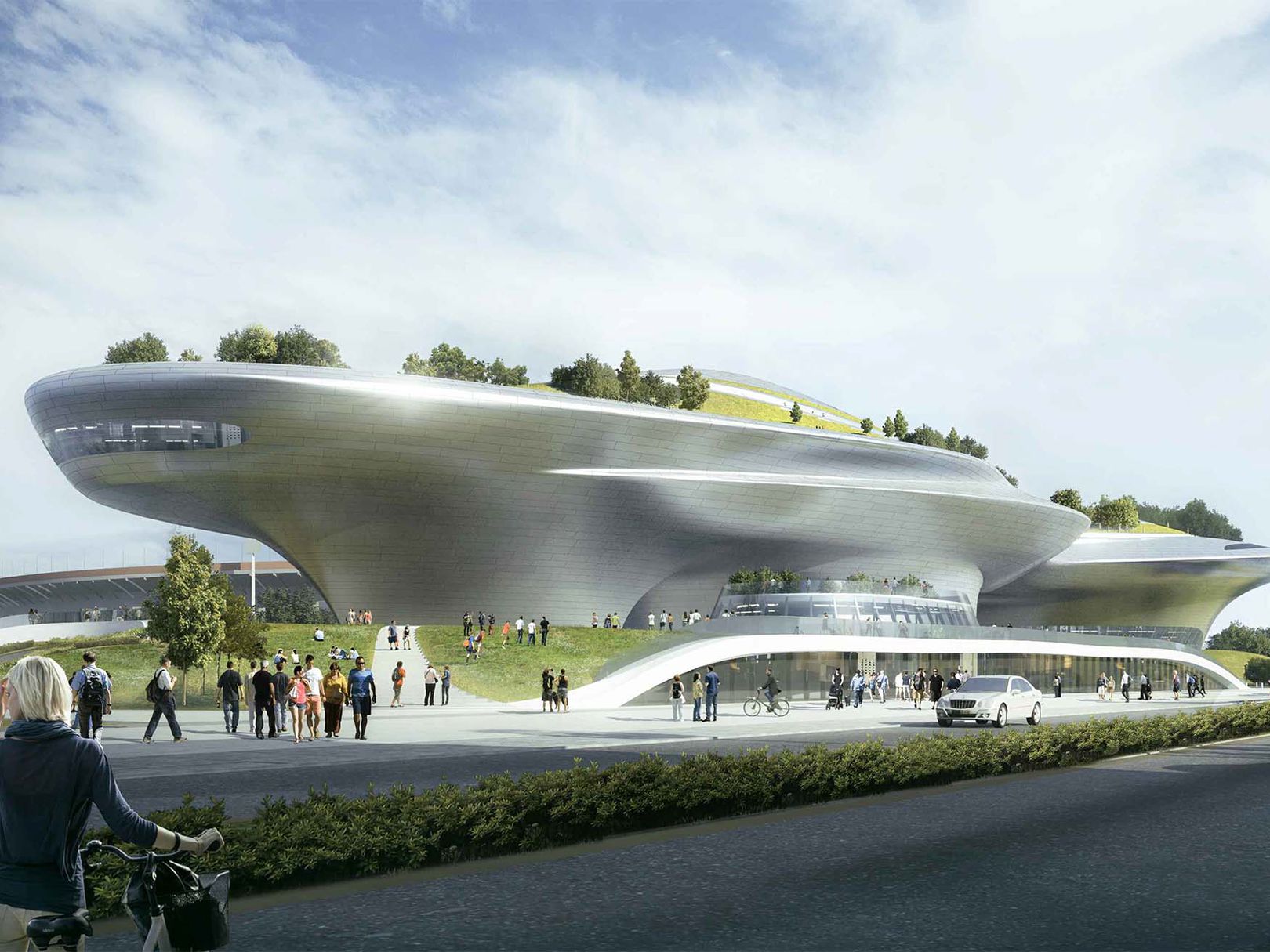 Photo: The Lucas Museum, designed by MAD architects. via city planning department
5.
Banc of California Stadium
3939 S Figueroa St
Los Angeles, CA 90037
Another big addition to Exposition Park: The shiny new home of the Los Angeles Football Club in Exposition Park opened just this spring. The open-air stadium holds 22,000 seats and offers some sweet city views. It also boasts an impressive food line-up, including Koreatown's Beer Belly.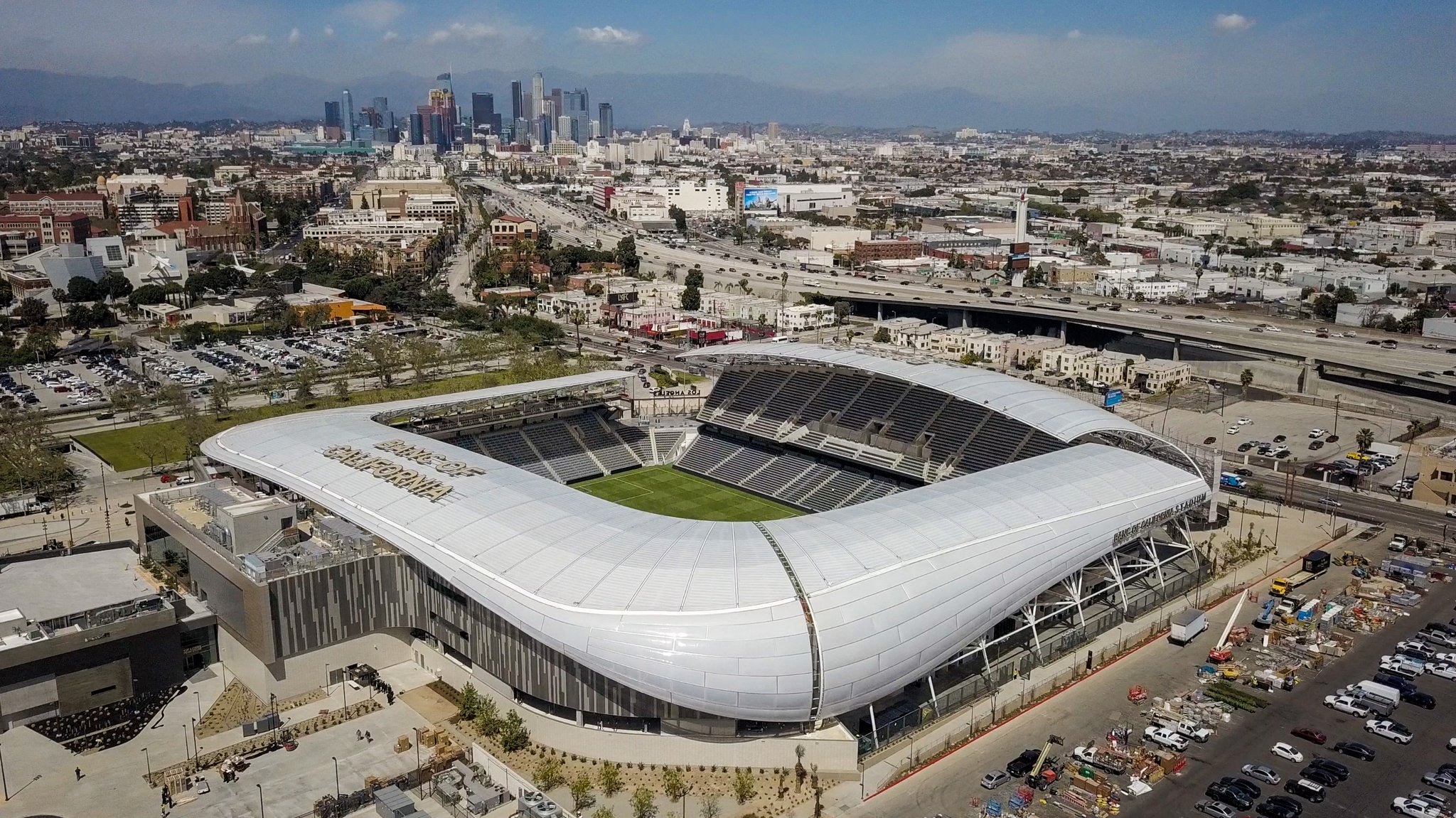 Photo: Banc of California Stadium. via Banc of California Stadium Instagram
6.
Baldwin Hills Crenshaw Plaza redevelopment
3650 W Martin Luther King Jr Blvd
Los Angeles, CA 90008
The planned makeover of this mall would entail much more than a facelift. A 10-story office building, 961 apartments and condos, and a 400-room hotel will be erected as part of the massive redevelopment. The project is grabbing a lot of attention in the community, both good and bad. City officials and some residents say it will "serve as 'a catalyst that's much deserved'; others fear it will lead to displacement.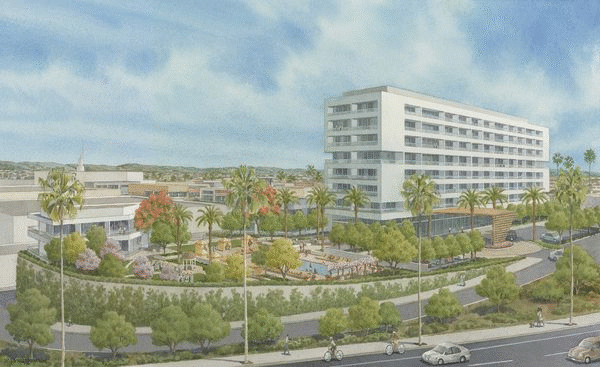 Photo: A hotel and hundreds of apartments and condos will be part of the mall redevelopment. via city planning department
7.
South Los Angeles Wetlands Park
5413 S Avalon Blvd
Los Angeles, CA 90011
The Los Angeles County Museum of Art is opening a small campus here. It's retrofitting an old building at the wetlands park to house arts programming, live performances, and a gallery. That programming may include internships for high school students and training local residents interested in working at museums. Under a lease agreement with the city, LACMA has also agreed to open a ranger station for park staffers with additional space potentially for a restaurant or retail.
ACMA director Michael Govan has said this will be a "historic" project for the museum.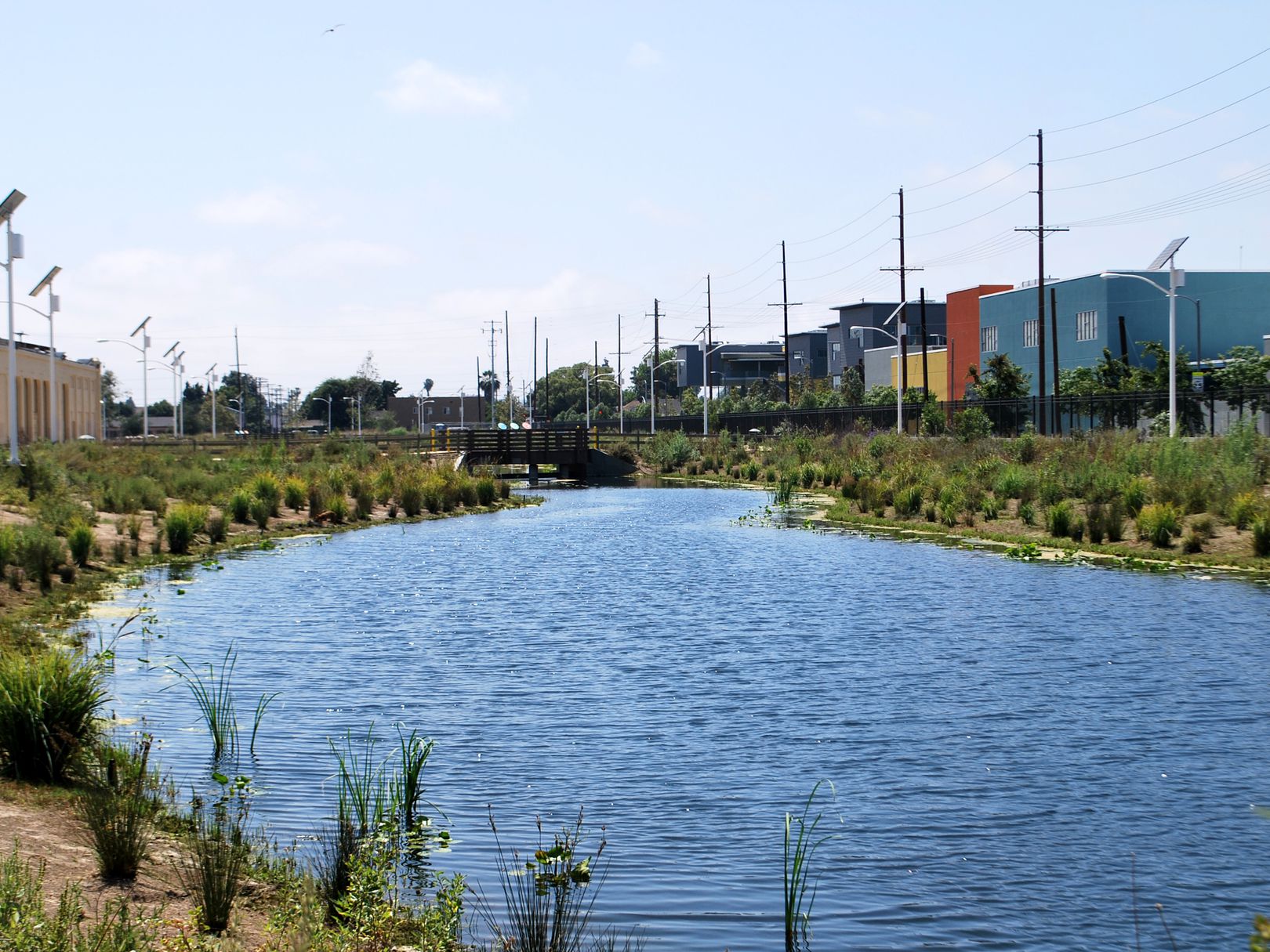 Photo: South Los Angeles Wetlands Park | Bri Weldon / Creative Commons
8.
Vermont-Manchester mixed user
8400 S Vermont Ave
Los Angeles, CA 90044
In Vermont Knolls, the county is starting constructions a new complex that will hold 180 units of affordable housing, a public school, a transit plaza and bus transfer center, and shops on the former home of a swap meet destroyed in the 1992 Uprising. County supervisors voted in December to use eminent domain to seize the land from a developer who has tried unsuccessfully to build an outdoor mall on the site.

Photo: Courtesy of Supervisor Mark Ridley-Thomas
9.
Hollywood Park
1050 S Prairie Ave
Inglewood, CA 90301
The NFL stadium will be part of a larger master-planned community built on Inglewood's former Hollywood Park racetrack. The complex is being billed as an "urban village," with a whopping 3,000 units of housing (single-family homes, townhomes, and condos), 620,000 square feet of shops and restaurants, a hotel, and revamped Hollywood Park Casino. Among the new homes will be green space and an artificial lake.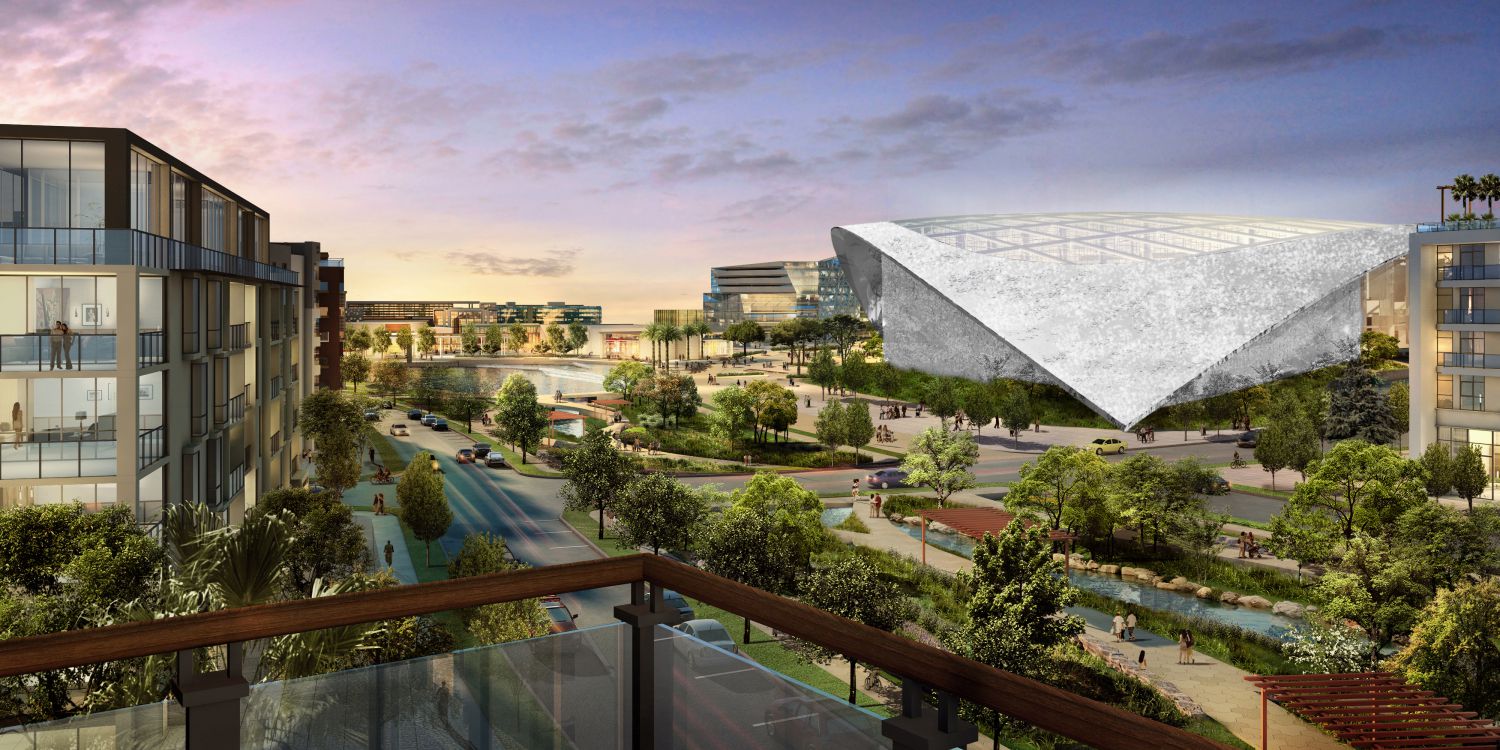 Photo: Hollywood Park.
10.
NFL Stadium
LA's future NFL stadium will be big, flashy, and expensive. It's costing upward of $2.5 billion to build the future home of the Chargers and Rams, and the 70,240-seat stadium will encompass nearly 3 million square feet—making it the largest in the NFL.
That's not the only price record it's expected to beat. Tickets to Rams games are projected to be the most expensive in the league's history, with season tickets forecasted to run $350 and $400 per game—and that's not including the cost of "seat licenses," which could top $200,000 per seat.
Construction is well underway, and opening is scheduled for 2020. In the meantime, click here to watch construction in real-time.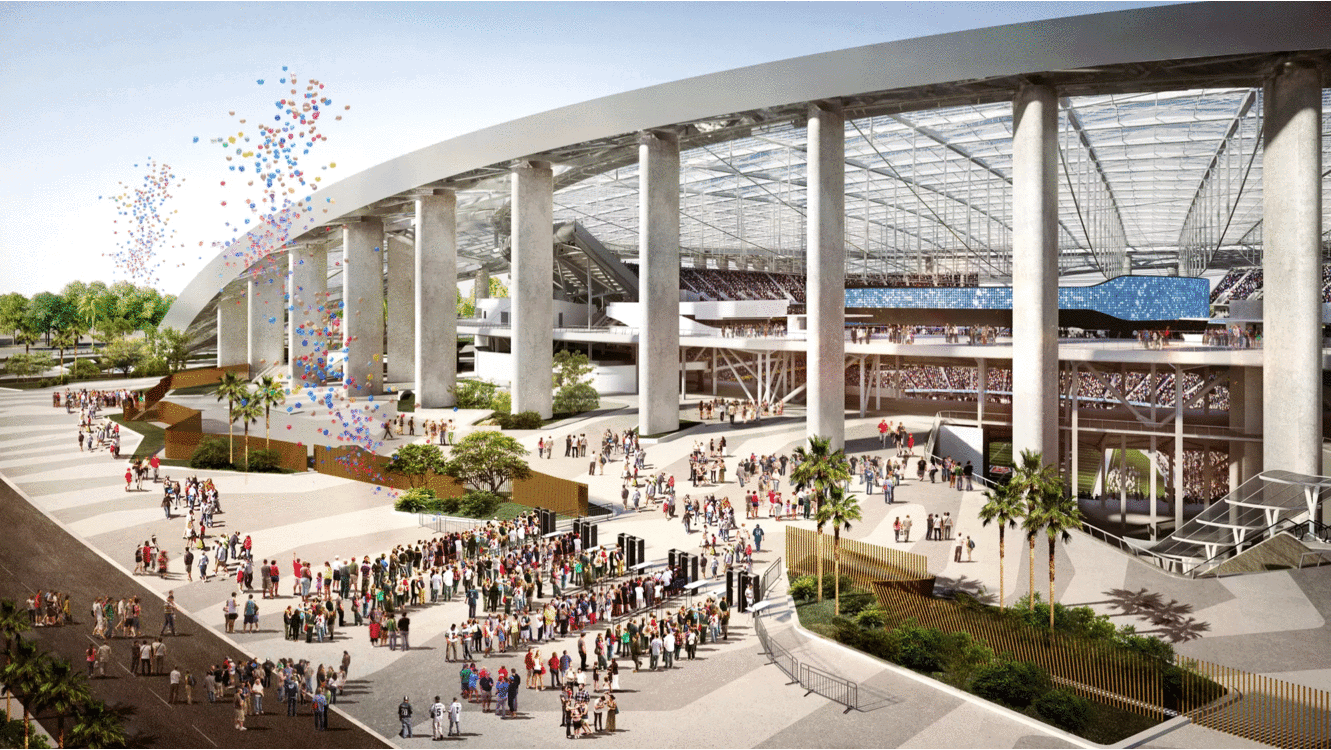 Photo: Courtesy Los Angeles Stadium & Entertainment District
11.
Jordan Downs
9800 Grape St
Los Angeles, CA 90002
Jordan Downs—one of LA's neglected public housing complexes—is being completely rebuilt. The redevelopment will take place in phases, gradually transforming the housing projects in Watts into a mixed-use, mixed-income community with new homes, shops, a much-needed grocery store, restaurants, community center, and green space. Some residents are wary of the makeover, as construction on the first phase is taking place on once-contaminated land.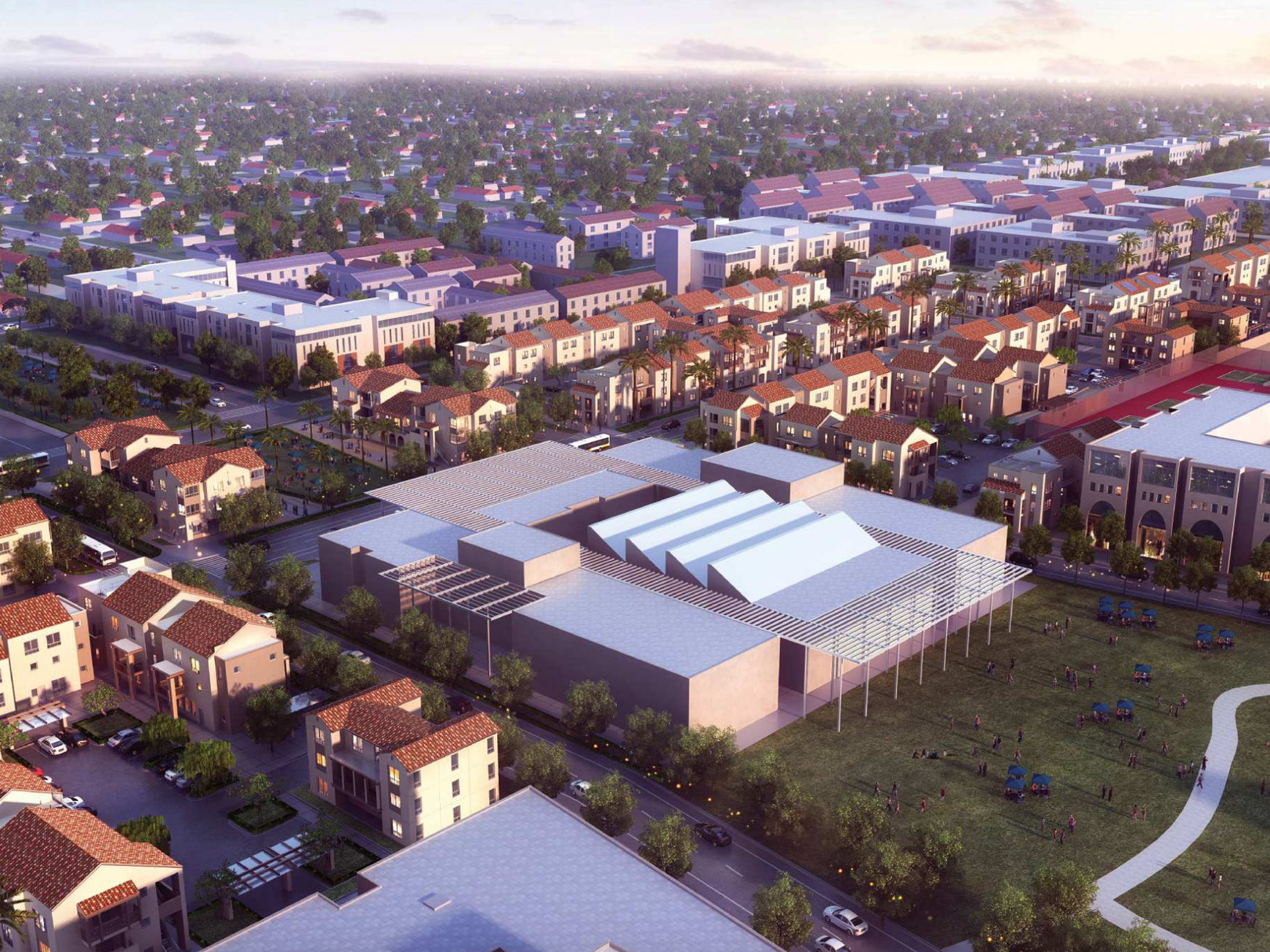 Photo: Courtesy of Bridge Housing
12.
Clippers arena
3950 W Century Blvd
Inglewood, CA 90303
The NFL stadium isn't the only professional sporting arena bound for Inglewood. It's looking very likely that the Clippers will move out of Downtown LA's Staples Center and into the South Los Angeles city. Details about the NBA arena, which would occupy land along Century Boulevard, have been scarce. But in February, the city released a short document that spells out it would seat 18,000 fans and would be joined by a new practice facility, retail space, and outdoor plazas with basketball courts that are open to the public.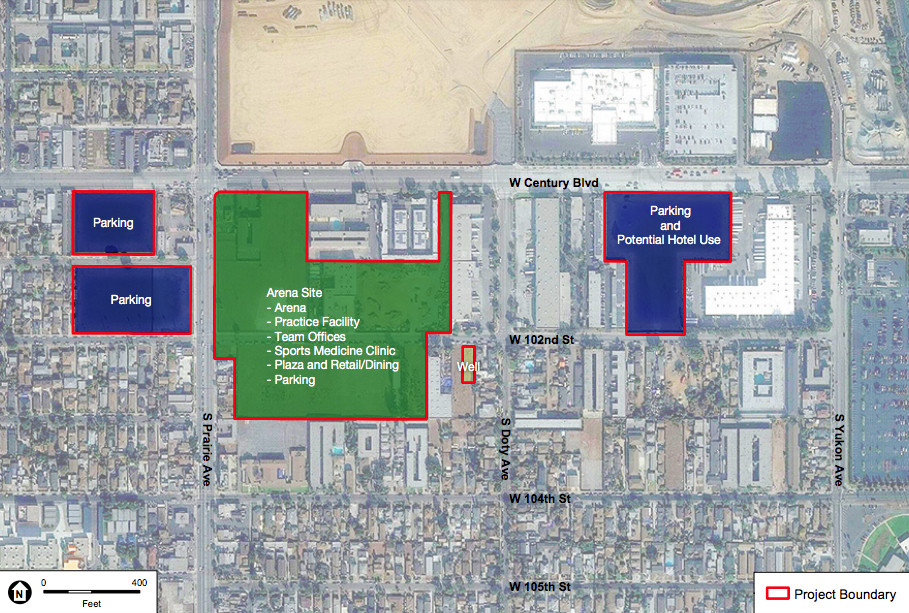 Photo: Via city of Inglewood
13.
Magic Johnson Park
905 E El Segundo Blvd
Los Angeles, CA 90059
A picturesque overhaul of this county park in Willowbrook is in the pipeline. Once completed, the redesign will add an amphitheater, event center, reflecting pool, sports complex, equestrian facilities, and a 1.75-mile horse path. But it's a very long pipeline—changes are expected to take place over two decades.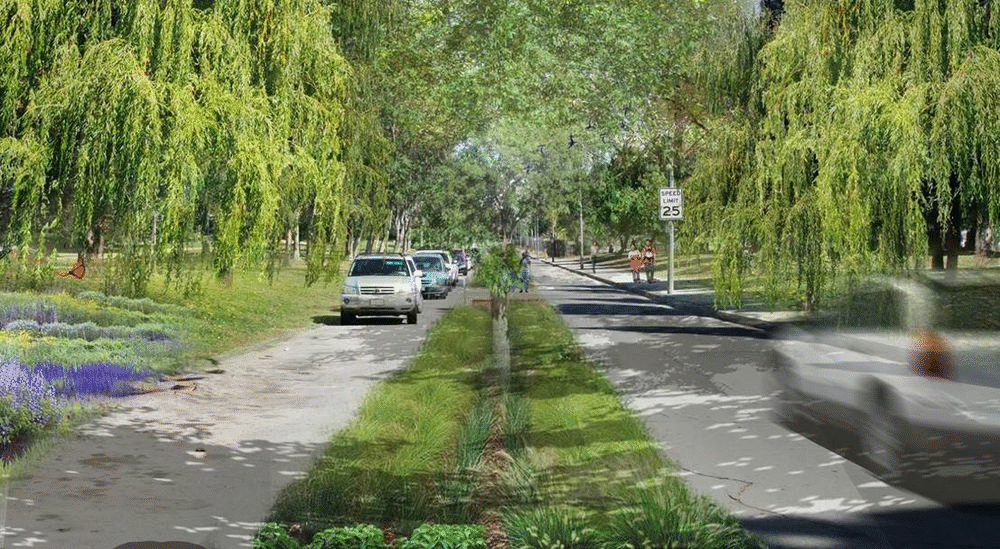 Photo: Via LA Times