Building L.A.'s rail system will create thousands of jobs. Can a transportation boarding school fill them?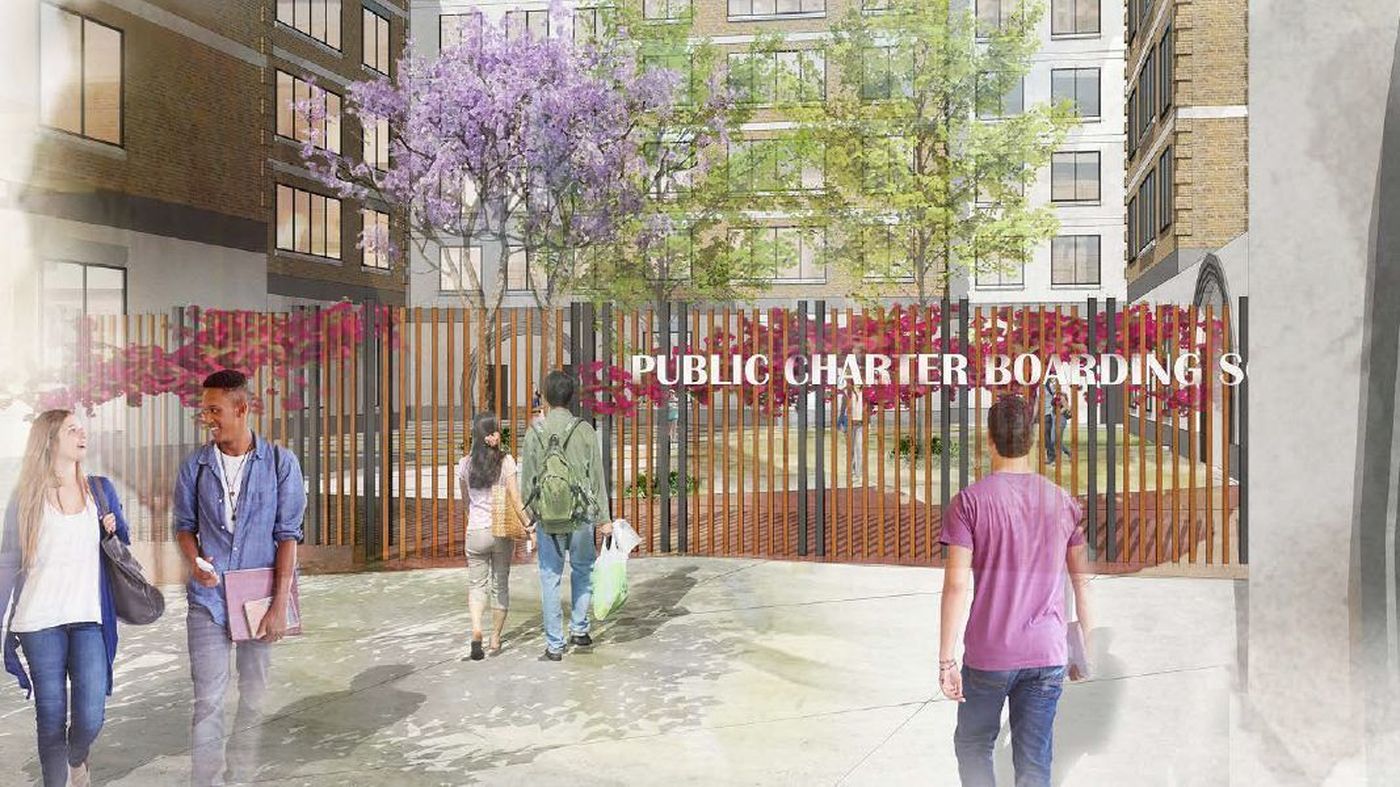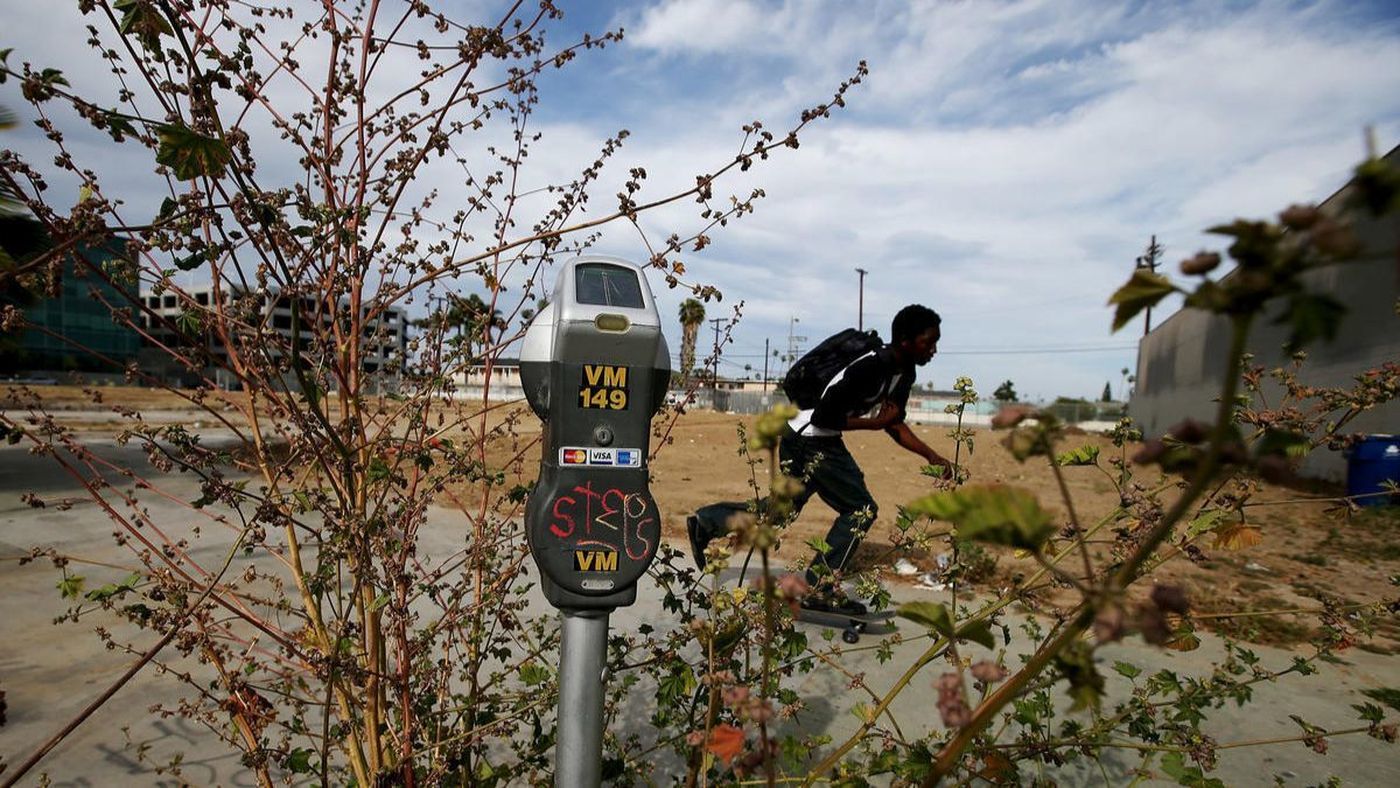 Boarding school conjures a certain image: children in preppy blazers, leafy quadrangles in New England and tuition that costs more than many families earn in a year.
That stereotype would not apply if officials carry out their vision for a dusty, trash-strewn lot in South Los Angeles that has sat vacant for more than two decades.
Their pitch? A transportation boarding school, free to its students.
The school would offer a vocational and college-preparatory curriculum, tightly tailored to train students for jobs in the transportation industry. Officials say some could find work with the Metropolitan Transportation Authority or local contractors after graduation; others could go on to college to study engineering, architecture or urban planning.
The 4.2-acre site at Vermont and Manchester avenues where the school would be built has been vacant since the 1992 Los Angeles riots, when a swap meet was torched and burned to the ground. Since then, the land has been caught in a tug-of-war between politicians and residents who disagree on what should be built there to address blight.
"For 25 years, we passed this spot and thought about insurrection," said Los Angeles County Supervisor Mark Ridley-Thomas, who is also a Metro director, at a press event Monday. "But today, we think about resurrection."
Though the proposal is in its infancy, it has sparked resistance from some South L.A. residents who say the neighborhood needs more sit-down restaurants, grocery stores and retail space — not a boarding school.
Los Angeles County won ownership of the lot through eminent domain in April. The boarding school is a key piece of the county's development plan, along with apartments, a job training center, a plaza for transit riders on Vermont, and 50,000 square feet of retail space, including a grocery store.
But the proposal does not include the sit-down restaurants, coffee shops and retail spaces that local residents need, said Elisa McGhee, who lives in Vermont Vista, a mile and a half south of the site.
"This is not the best thing for our community," McGhee said. "Building this school will not attract the retail that's needed here."
She also questioned why Metro and the county would build a new school in South L.A., when struggling high schools nearby would welcome the funding and support.
Some schools in Los Angeles offer magnet programs for science and technology, and others offer vocational training, but no one school offers them in combination, with a tight focus on the transportation industry, said Joanne Peterson, Metro's head of human resources.
The new development, she said, is an opportunity "to bring new life" to a piece of land in South L.A. that has been "unoccupied and blighted" for 26 years. The development's location is also convenient because Vermont is the second-most traveled transit corridor in the county, officials said.
The Board of Supervisors is expected to vote this week on an exclusive negotiating agreement with the nonprofit SEED Foundation, which runs public boarding schools, to develop more detailed plans for the L.A. school's construction and operation.
The foundation would also apply for a charter with the Los Angeles County Office of Education.
About 400 students in high school could attend, staying on campus during the week and returning home on weekends, said Ridley-Thomas deputy Karly Katona. Room and board would be free. The school could open as soon as the fall of 2020, she said.
The school's annual operating subsidy from Los Angeles County is expected to be about $10 million, or about $25,000 per student, Katona said. Like other charters, the school would receive money from the state for each pupil, and would also pursue grants, philanthropic funding and donations from the transportation industry.
Metro hopes graduates could address a critical need in Southern California: qualified workers. Nearly a dozen new rail lines are to be built across Los Angeles in the next four decades, creating thousands of vacant positions in construction and engineering.
Already, Metro struggles to fill some jobs. The agency hires about 2,200 people per year, and is continuously recruiting for some positions, including track inspectors and engineers, Peterson said. About 40% of Metro's 11,000 employees are eligible for retirement today.
"What we're trying to do is really flood the market with qualified people," said Metro Chief Executive Phil Washington. "We want to be the farm team for the industry."
Trained graduates would be in high demand among firms that "either go to the union hall and get folks off the bench or take a chance on someone right off the street," Washington said. The hope, he said, is that private companies will send employees to guest lecture, help shape the curriculum and give money to the school.
Early plans for the curriculum call for seven career tracks, including logistics, civics and public policy, engineering and mechanics. Students would also take classes that meet the state's curriculum requirements.
A similar approach exists at Transit Tech High School in New York City, where teenagers take English, math and other standard classes, but also learn about computer circuitry, hydraulics and electronic troubleshooting. The program is a public school, not a charter, and students go home at night.
Formerly a vocational school for all kinds of trades, the school switched its focus in 1986 at the urging of New York transit officials. Today, the school bears the slogan "The express to success."
When graduates land jobs with Amtrak, or with New York City's deteriorating subway system, the school's Twitter account congratulates them with the rousing cheer, "Go Transit!"
In L.A., officials hope to attract students from across the county who have been homeless, in foster care, or involved in the criminal justice system — and have reached out to LACOE, the Los Angeles Unified School District, community colleges and social service agencies for advice.
Critics have questioned whether officials would launch a school with that emphasis, or a focus on career training, in a majority-white neighborhood.
Officials say the obstacles children face in the neighborhoods near the site make the case for a school with a stable place to live. More than 1,700 children are in foster care and group homes in the eight surrounding ZIP codes, and the teen pregnancy rate is twice the county average.
The school would be an opportunity to provide "early, strategic intervention" for teenagers who could otherwise "end up costing the county a lot of money in the long term," Katona said.
Metro officials argued that the program would amount to economic development, creating a pipeline that would allow young people to find work in their own neighborhoods.
McGhee said she worried that the school would be a "soft jail," where students from rival gangs could endanger other students or neighborhood residents. She said residents are "not going to want to mix kids up that are doing well with kids that are trying to catch up or learning how to behave."
There are a few precedents for a program that focuses on foster youth, including San Pasqual Academy, a year-round boarding school in Escondido for teenagers in the foster care system. In the 2016 school year, 77% of students graduated, according to county data.
The SEED Foundation's boarding school in Miami, which opened in 2014, caters exclusively to students who are at risk of failing school, live in public housing or foster care, and whose families qualify for social services or other benefits.
The foundation's D.C. school is among the best-known charter schools in the country. It was featured in the 2010 documentary "Waiting for Superman," and has hosted a number of dignitaries, including then-President Obama and Prince Charles of Britain.
If the L.A. school includes a significant number of students who have been homeless, in foster care or arrested, teachers and administrators should be prepared to work through unresolved trauma, familial issues and other emotional needs, said Pedro Noguera, a professor of education at UCLA.
"A lot of times, you don't see high-quality education and support being provided to disadvantaged kids," Noguera said. But, he said, the idea of training students for high-quality jobs in the future "is a promising concept."