Long awaited people mover at LAX APPROVED!!!
To applause from a City Hall audience, the Los Angeles City Council on Wednesday unanimously approved up to $4.9 billion to design, build, operate and maintain an elevated train that will whisk passengers in and out of LAX's central terminal area and carry them to a car rental facility, a ground transportation hub and a station on the Metro Crenshaw Line. The sleek people mover is a major part of L.A.'s efforts to improve transportation in traffic-choked Southern California before the 2028 Summer Olympics. The project will break ground this year, and service is expected to begin in March 2023.
Travelers leaving Los Angeles International Airport by car, van, bus, shuttle or taxi have no choice but to wait at the chaotic curbside, often for more than half an hour, as drivers fight through crawling lanes of bumper-to-bumper traffic.
But within five years, the defining experience of traveling in and out of LAX could change, as the city moves forward on an ambitious and long-awaited transit project that will connect the airport to Los Angeles County's growing mass transit system.
Los Angeles World Airports' progress toward a transportation system that provides an alternative to driving comes years — in some cases, decades — after other major world airports. As flight volumes grew and traffic worsened in Southern California, travelers learned that getting in and out of LAX could be chaotic, miserable and unpredictable. Currently, passengers and airport employees who take transit to the airport must disembark from the Metro Green Line at the Aviation/LAX station and transfer to shuttle buses.
Original plans for the Green Line called for a direct rail connection to LAX. But in the early 1980s, people mover technology was not widely available — at least outside of Disneyland — and officials could not decide how to build the station inside the horseshoe terminal area. The extension was ultimately killed when the price tag on the 20-mile Norwalk-to-Redondo Beach line tripled.
Still, construction crews built a rail line stub branching off the Green Line, pointing hopefully toward the airport. Those tracks have now been connected to the Crenshaw Line, the 8.5-mile light-rail route slated to begin service late next year.
A $200 million-dollar Metro station at 96th Street and Aviation Boulevard will serve as a transfer point from transit to the people mover. Reaching LAX's terminals from the rail station should take less than 10 minutes, airport officials said. The people mover trains will be driverless and will run on smaller tracks than a light-rail vehicle. Trains will run every two minutes, 24 hours a day, and will be able to carry about 10,000 people per hour. The train will make three stops in the center of LAX's arrivals and departures area, where passengers will be able to connect to nearby terminals on moving walkways.
East of the airport, the people mover will connect to a ground transportation hub where travelers can wait to be picked up by a friend or a ride-share driver, or board shuttle buses to nearby hotels or parking lots — improvements that officials say should significantly reduce traffic near the terminals. The people mover's final stop, near the 405 Freeway, will be a consolidated car rental facility. The massive development on land that was once the Manchester Square neighborhood will eliminate the need for the lumbering rental car shuttles that account for 1 in 5 curbside airport boarding's.
The contract to build and run the people mover is one of the largest in city history. The group of companies that won the contract is known as LAX Integrated Express Solutions, or LINXS. Member companies include rail car manufacturer Bombardier Transportation and construction giant Fluor Enterprises. The group's bid of $4.895 billion was 4% lower than airport officials' estimates and $700 million lower than other bidders, officials said. It includes a construction estimate of $1.95 billion. The airport will make six lump-sum payments to the LINXS group between 2019 and 2022 as it meets construction benchmarks, officials said. That financial arrangement is common in Europe, and is designed to encourage solid construction, since the same group of companies will be paying to maintain and operate the system.
Stiff penalties are built into the contract to discourage cost overruns and schedule delays, some of the most frequent issues with Southern California construction projects.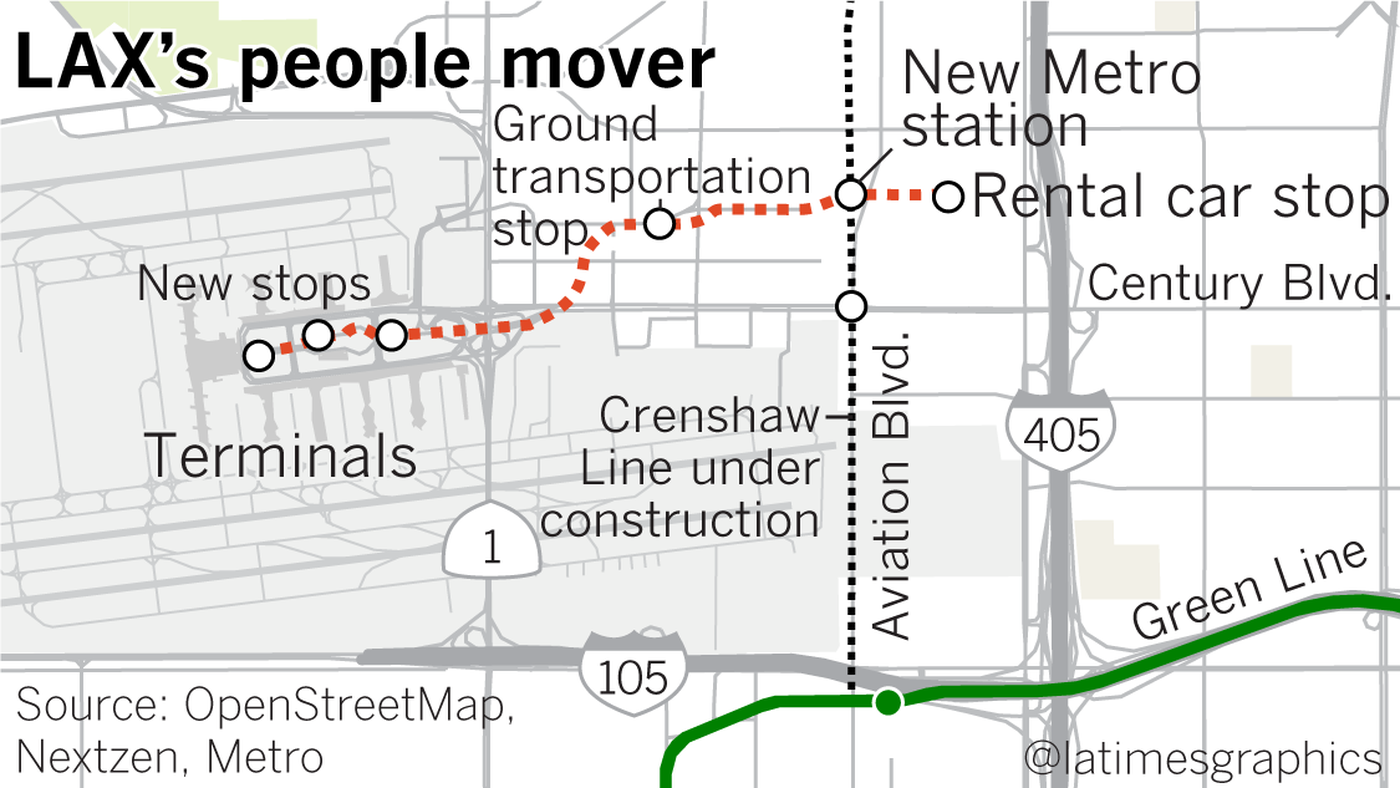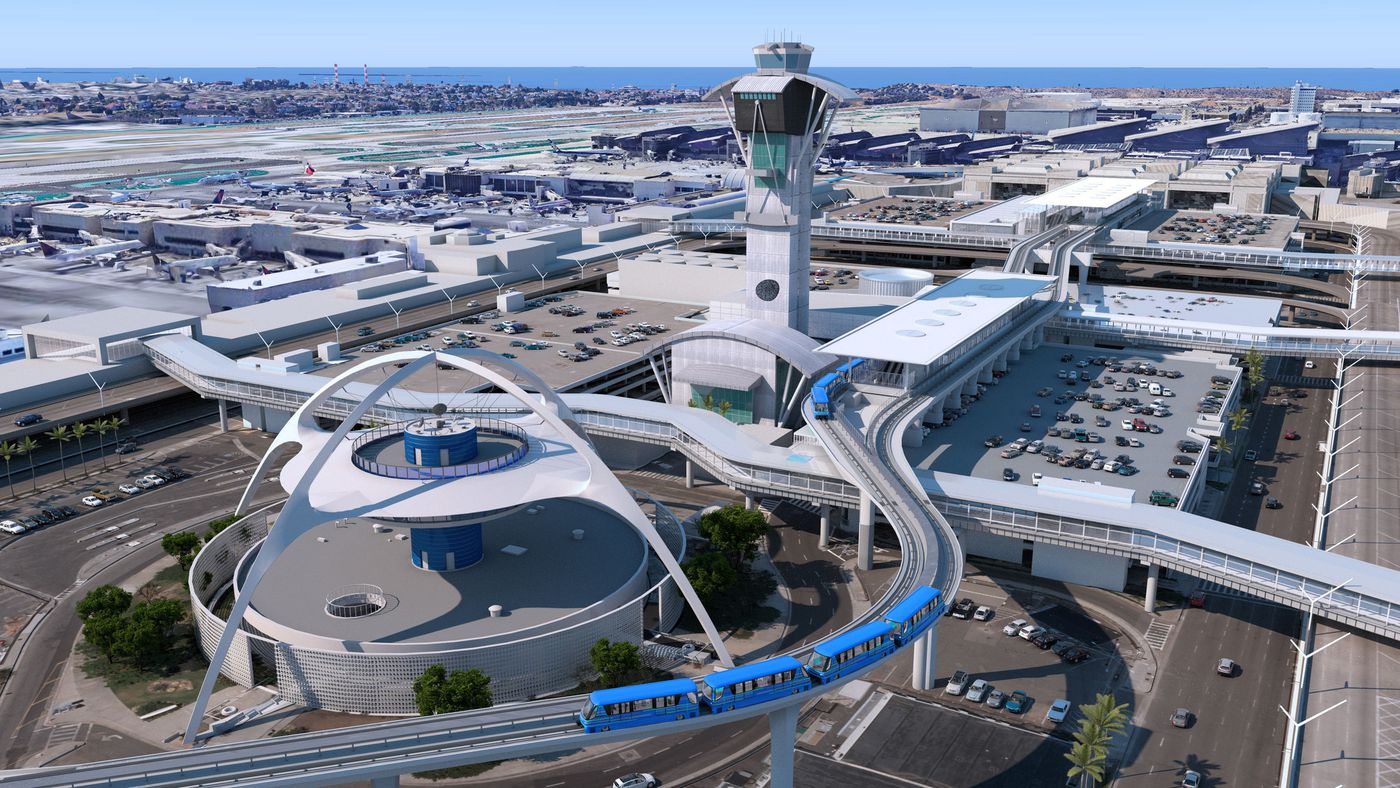 About $3.8 billion of the costs to build and run the project will come from airport revenues. The LINXS consortium will issue tax-exempt bonds to pay for the rest of the project, and the airport will pay the financing costs, leading to a total cost of up to $4.9 billion, officials said. During the 25-year operating period, airport officials will make annual payments to cover operating and maintenance costs. When the 25 years are up, in 2048, the business group will return the people mover to LAX with at least five years of useful life left in the system, officials said.